February 2013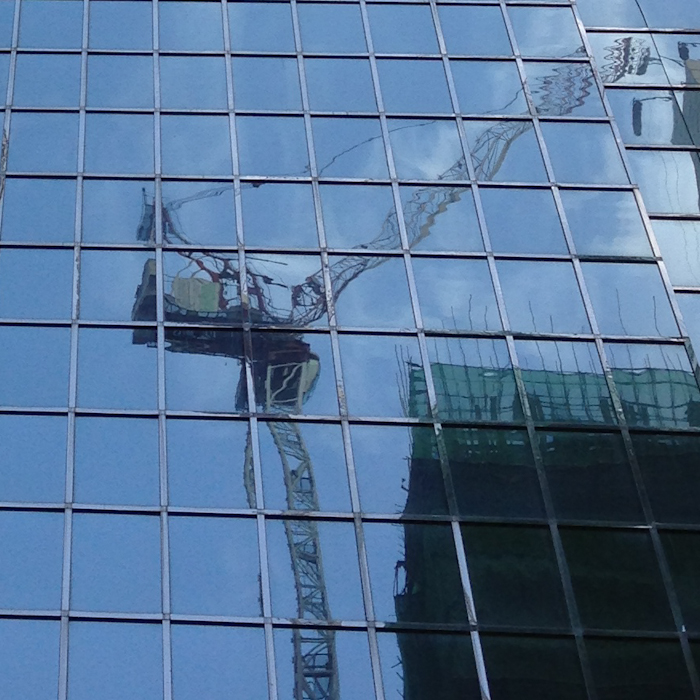 Hong Kong is full of spectacularly tall high-rise buildings, many clad with much glass to reflect their surroundings. This edifice is part of Times Square in Happy Valley where a nearby crane can be seen  broken up into various rippled parts like images on water.
Taken on my iPhone 5 and cropped in Lightroom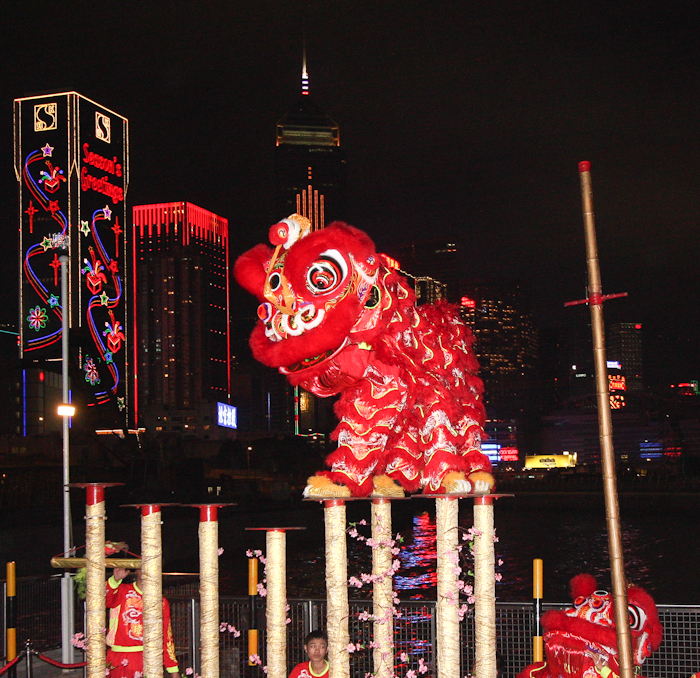 It's the Year of the Snake and the Chinese New Year celebrations in Hong Kong were as lavish and spectacular as ever. For several days during and after the actual three-day new year festival everywhere I went around town seemed to have hired the local troupe of lion dancers. The really spectacular ones were like this one at the Royal Hong Kong Yacht Club where I went to watch the New Year fireworks. With a backdrop of the city lights, the two guys inside this costume pranced along the poles to entertain the crowd like the true professional they are.
Canon 40D with Canon 10-22mm EFS lens at 19mm. ISO800 1/60 at f4.5 with built-in flash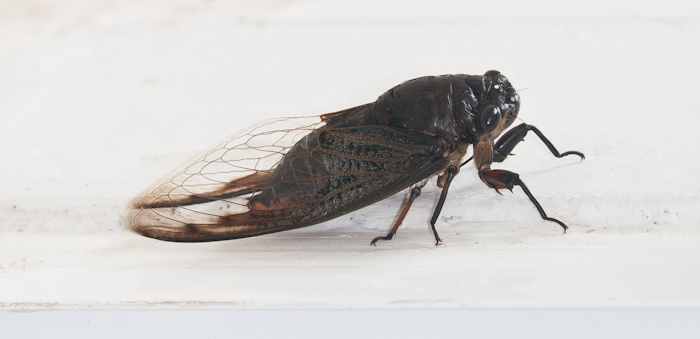 It seems there are dozen of types of cicadas. Whole books are written about them. Their main claim to fame, apart from being a delicacy in Thai and other SE Asian cuisine, is that they are the noisiest bugs around. That fact I can certainly attest to.
We have an apartment in a lovely setting about a mile inland from Kamala Beach in Phuket. We are up a hill so we get a panoramic view of the bay. To the left and rear of our apartment is rain forest, good virgin stuff with hugely tall trees, including, in the season, durians that bear the most foul smelling fruit in the world. There are large Asian squirrels to be seen, some bird life. And cicadas. Millions of them. They are quite staggeringly noisy insects with a tympanic call that can carry a mile that the males make to attract the females. They start at daybreak with a brief morning chorus of about twenty minutes. Then around early – mid afternoon there is a cacophony that is quiet deafening. And then at sunset there is the finale that sounds like an orchestra of power saws in unison. Each species call is slightly different and a female of a given species will only take note of the call from a male of the same species.
Once they have finished, they look around, see the lights on and try to get into the apartment, banging against the windows and screen doors. Looking at that prehistoric exoskeleton, headaches clearly aren't a problem.
I found this fellow one morning on the wall outside the bedroom. He was patient, allowing me to take many shots. After that, I gave him a gentle nudge under the wings and he flew away, the beating of the wings sounding like a helicopter.
Head to end of folded wingtips, he was about 2.5″ long.
Canon 40D with Canon 70-200mm f4 IS lens at 116mm and with a Canon 12mm extension tube. ISO800 1/100 at f6.3 with flash from the built-in flashgun. Adjusted and cropped in Lightroom
Location: Phuket, Thailand