March 2016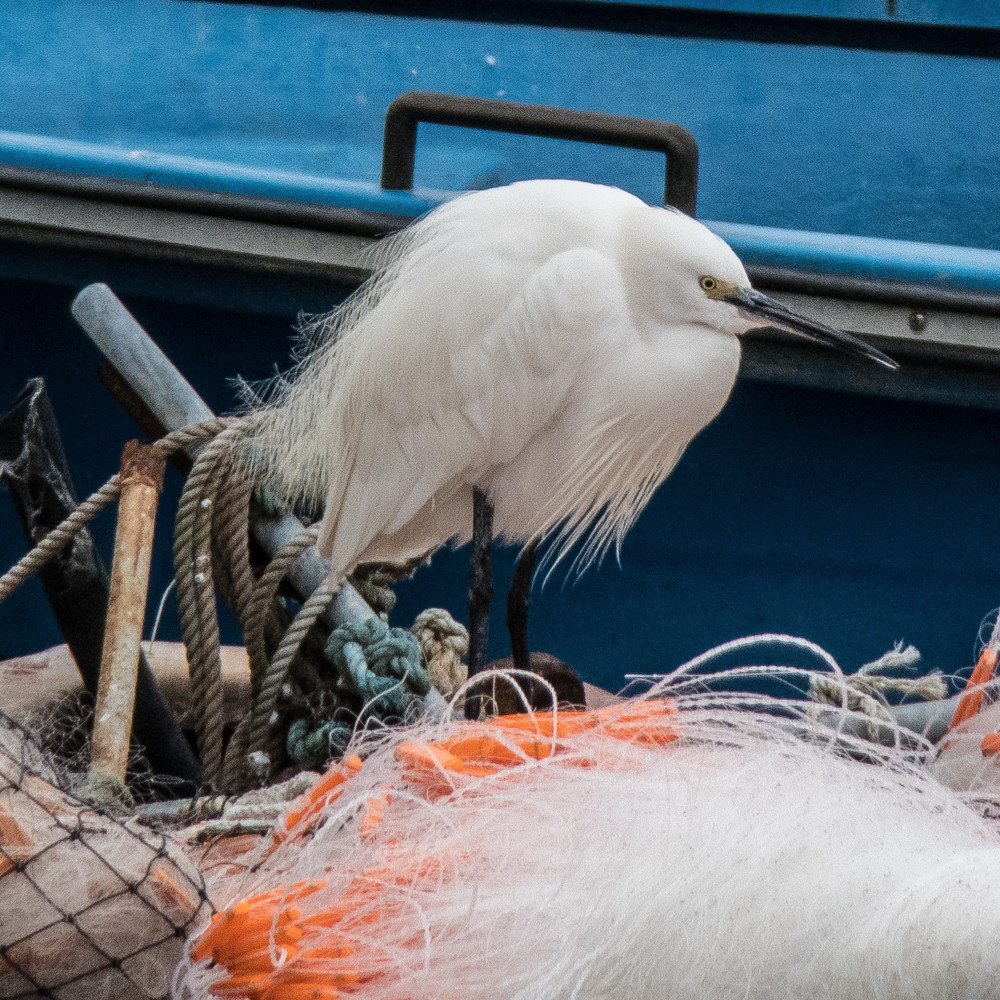 Another fisherman, in this case an opportunist Chinese egret who has worked out that if he sits among the nets on a fishing boat, he might get lucky.
Canon G3X ISO400 1/320 at f/8 & 220mm (600mm equiv). Cropped in LR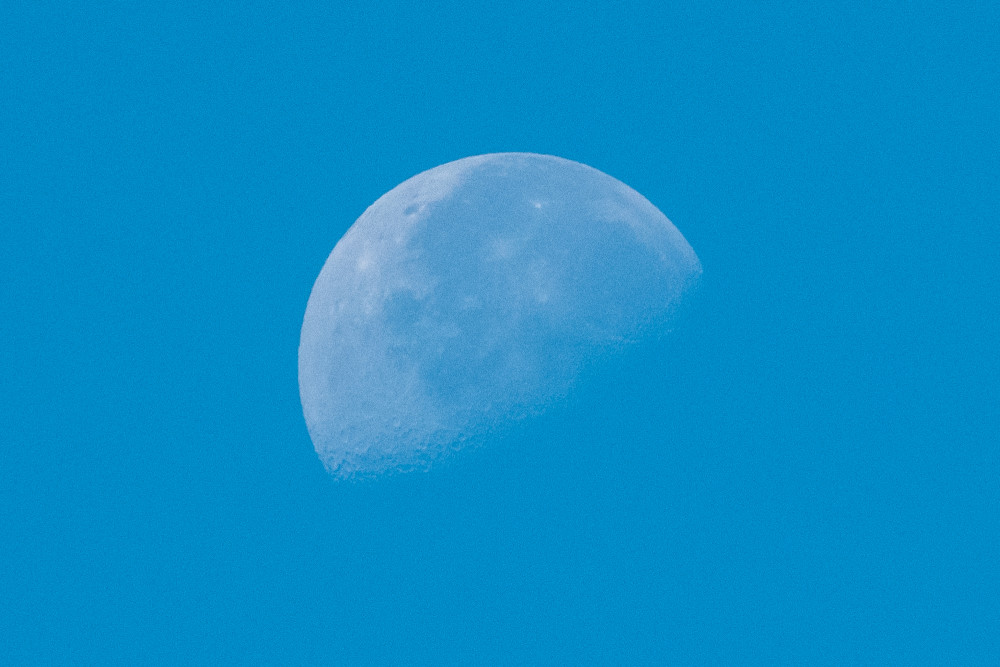 A waning moon over Kamala, Phuket at eight this morning.
Canon G3X ISO1000 1/2000 at f/8 & 220mm (600mm equiv). Adjusted and cropped in LR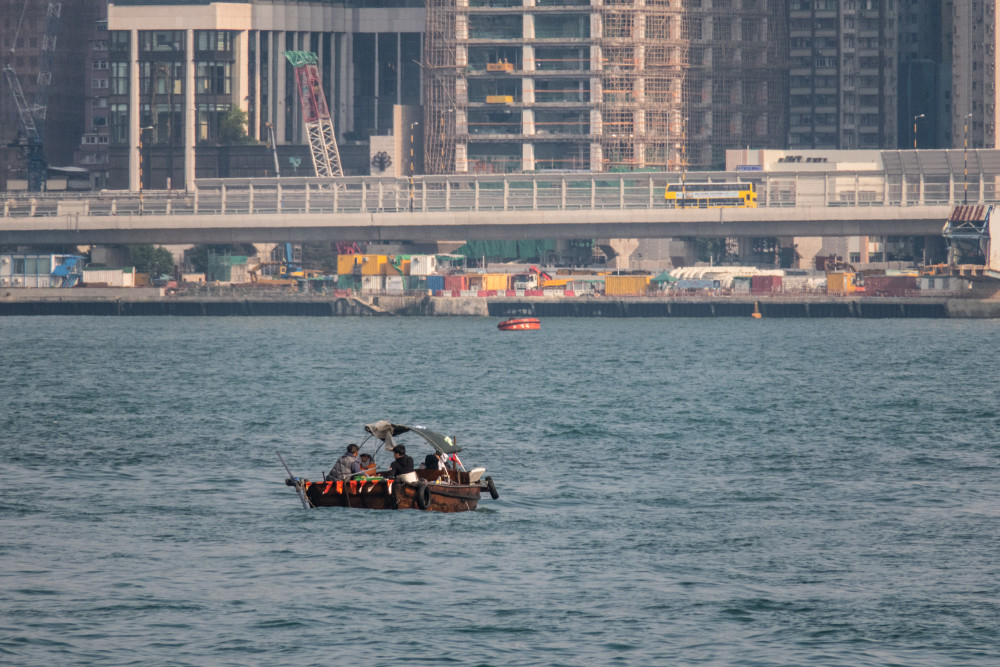 In the days before all that background construction, elevated roads, the MTR and road tunnels, if you wanted to cross Hong Kong harbour in the wee small hours, a little boat like this was the only choice, unless you fancied a swim. The fleet of walla-wallas served revellers and others until probably the late 70s, after which alternative and less exciting forms of getting home took over. There are still a few to be seen, mainly with a few people out fishing, braving the wakes from far larger craft.
Canon G3X ISO400 1/1250 at f/8 and 220mm (600mm equiv)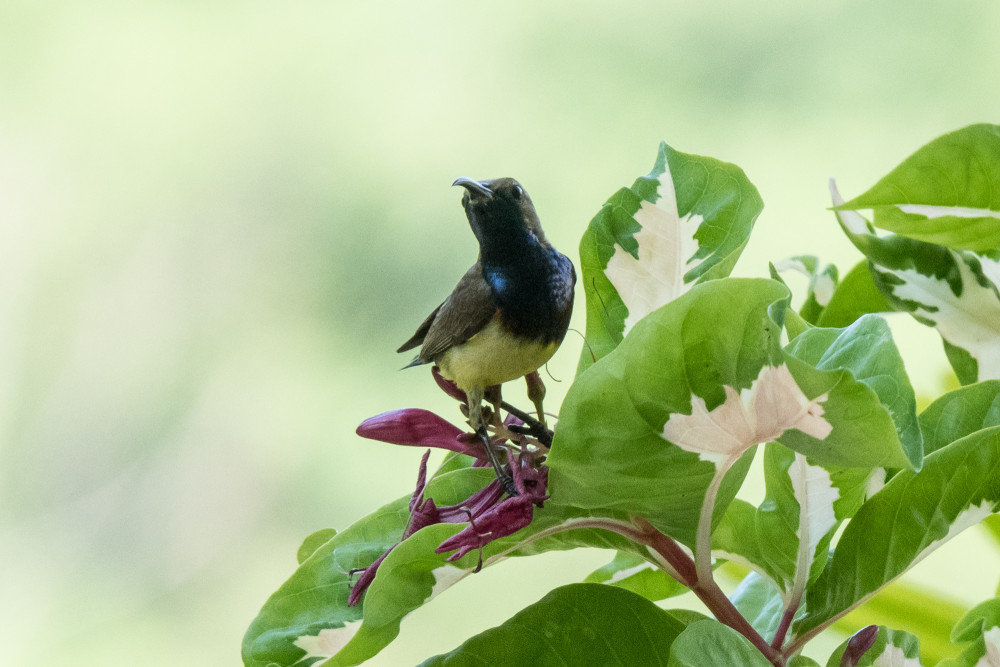 A chirpy and enthusiastic olive-backed sunbird (Nectarinia jugularis), a frequent visitor to our balcony over the last few days since the variegated shrub he's sitting on started to flower.
Canon G3X ISO640 1/640 at f/5.6. Cropped in LR.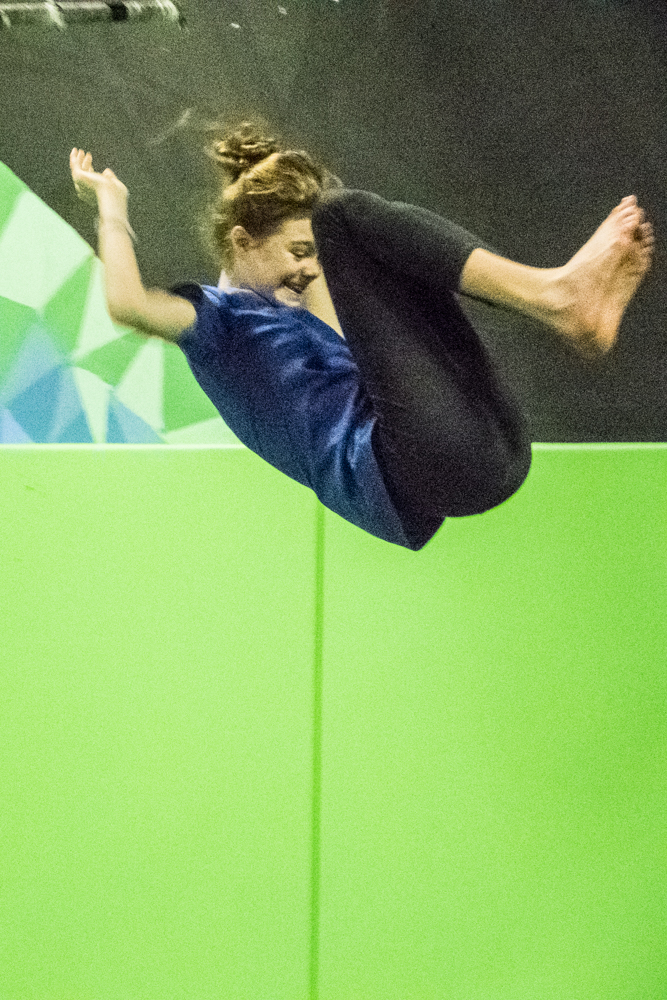 Granddaughter Lily taking a leap of faith at the Ryze Ultimate Trampoline Park in Hong Kong.
A test of the camera this one. In the relatively low light conditions, flash wasn't an option because of the distance, so I racked up the ISO in order to freeze the movement. The Canon gets a bit twitched in these conditions so you need to take a few shots to get the right one. Overall, the grain level is reasonable.
The image is adjusted in Lightroom and cropped to about 1/3 of it's original size – she nearly flew out of the side of the frame!
Canon G3X ISO12800 1/60 at f/5.6 and 48mm(~130mm equiv)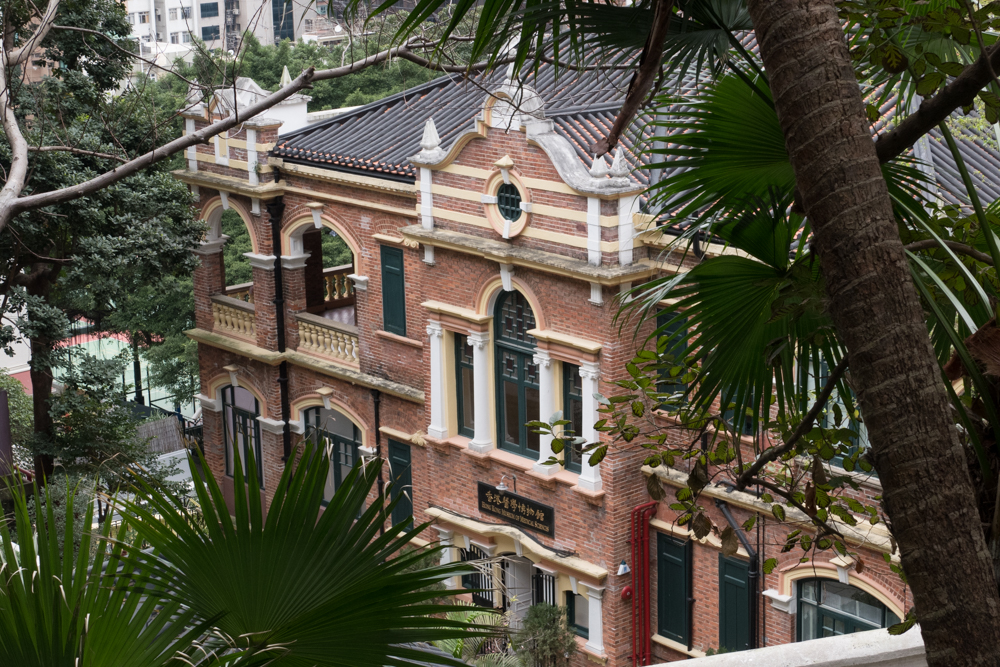 Hong Kong might seem like nothing but high-rise buildings and bustle, but when you look beyond that first impression, there is much to be found. The bustle is easily left behind: just take a walk around the Peak or along the HK Trail that goes the length of HK Island.  And nestling among the high-rise, especially in the older parts of Hong Kong Island, are several proud old buildings from Hong Kong's early colonial days, now mercifully preserved.
One of these is the Hong Kong Museum of Medical Sciences that dates back to 1906. Originally designed as as a Bacteriological Institute following the so-called Plague Years of Hong Kong in the 1890s, it became the Pathological Institute after WWII. There's a full history here and here.
You can find this building on Caine Road at the top of the appropriately named Ladder Street.
Canon G3X ISO 400 1/125 at f/7.1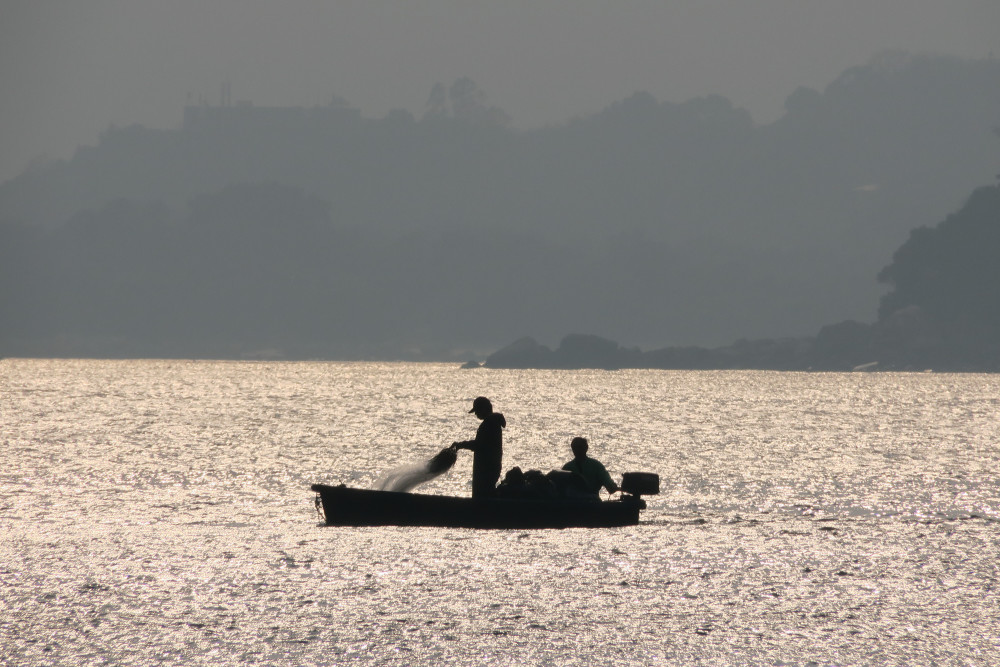 Another shot of a fisherman, this one in a boat off Cheung Sha beach, Lantau Island, Hong Kong. I was testing out my new Canon G3X's capabilities at full telephoto – 600mm equivalent – together with its image stabilisation. It passed!
Canon G3X ISO160 1/1600 at f/11 at 220mm.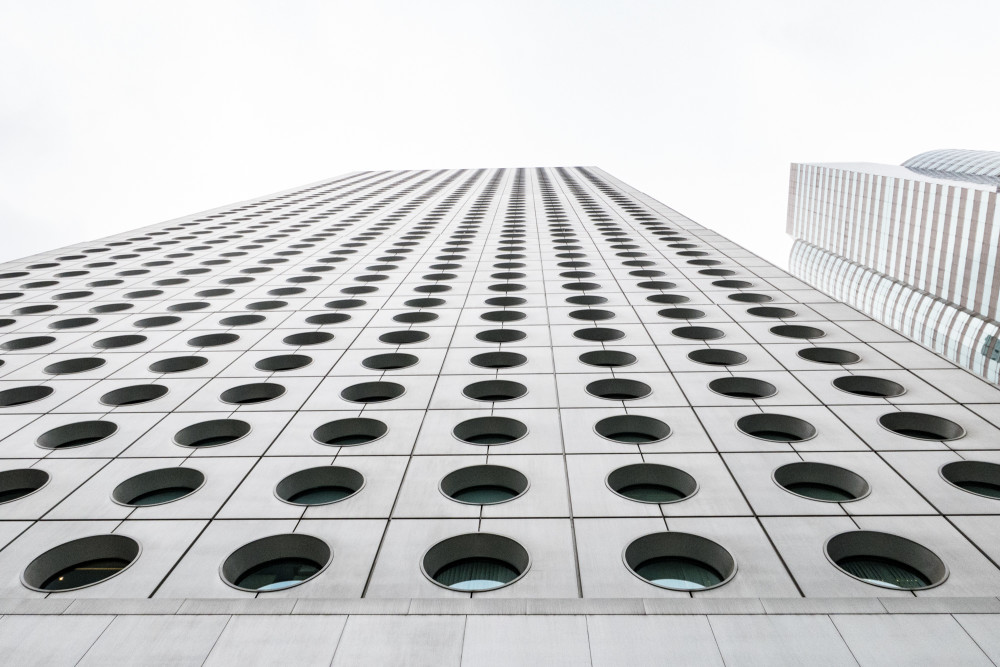 When I first arrived in Hong Kong in 1976, the Connaught Centre was, at 178m,  not only the tallest building in Hong Kong, but also the tallest in Asia. Completed in 1972, it has 52 floors. It was later renamed Jardine House and these days is rather dwarfed by a number of nearby towers, not the least of which is the IFC , which has 88 floors and tops out at 412m. (I posted a photo some weeks ago of the IFC disappearing into a February mist).
Connaught Centre/Jardine House has an innovative design that included round windows, which apparently made a difference structurally. It also earned the local nickname of the House of a Thousand Arseholes.
All that aside, it's still a pretty impressive building.
Canono G3X ISO800 1/2000 & f/7.1 at 8.8mm (24mm equiv)