About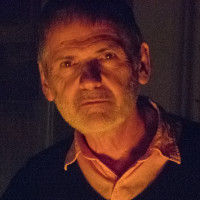 These days it's hard to be a photographer without having a good working knowledge of computers. However, the appeal of the photographic cyberworld is not just fabulous photo-editing software, but being able to communicate through the internet with like-minded people worldwide. And all the time it gets easier, thanks to the thousands of dedicated code-writers out there. This site is the result of an excursion into WordPress, the learning curve for which was remarkably painless, although no themes are without their frustrations. This one, Photolux, is no exception.
Pinhole
For many photographers, the passion with the subject starts early in life. For me, it was on my tenth birthday when I was given a Kodak Twin 20: a pale blue pinhole camera with a built-in flash gun that used flash bulbs! The Kodak had its moments but fairly soon gave way to a second-hand Zeiss Icon Nettar bought in Dixons for four pounds. Secreted away somewhere is a stash of 6×6cm B&W negatives from that fold-out-bellows wonder, together with large numbers of prints produced in a blacked-out kitchen using a home-made enlarger. How things have changed!
SLRs
My first SLR was a totally manual Practica, a very popular budget brand in the late 60s. It didn't even have a lightmeter so when I finally upgraded a few years later to the brilliant Olympus OM-2n, I thought I'd died and gone to heaven. The Olympus served well until it was stolen in Rome in 1994, by which time it called itself a 'lympu' – the case, if not the camera, had suffered the ravages of time.
Since then it's been Canon all the way, firstly with a couple of film bodies and then the move to digital. A G1, to try out the new-fangled technology, was followed by a D60, and since then there's been no looking back. Not only do I maintain that digital is now vastly superior to film, I also love the freedom and flexibility that computer processing gives, especially since I moved over to a Mac. Most of my processing is now carried out using Adobe Lightroom, with occasional further tweaking in Photoshop.
Equipment
These days I use Canon 1DMkII and 40D bodies;  EF 28-70 f2.8L, EF 70-200 f4L IS, EF 300L f2.8 IS and EF-S 10-22 f3.5-4.5 lenses; a pair of 550EX flashes with a speedlite transmitter and a set of tubes and extenders.
Note added March 2016: I'm not getting any younger and I've finally admitted defeat in the game of lugging kilos of equipment around, not to say the increasing feeling of self-consciousness in a world where everyone is snapping away with smartphones. So I've done two things. Firstly, started using my iPod touch for many snappy type photos – it has a really great camera with a brilliant pano function. And secondly, discovered and bought Canon's compact G3X. I'd describe this camera as a smartphone on speed. It has excellent image quality, – a 20Mpixel sensor  with superb low light sensitivity (ISO12800 that is very usable) and most important of all, a 24-600 equivalent optical zoom lens. It takes a bit of getting used to to allow for its eccentricities, but I've taken over one thousand shots now and I'm so pleased that the promise I made my wife Gail that I'd sell some of the heavy stuff will be honoured as soon as we return to Italy in the spring. Check out all my recent shots on the 'posts' page; they are taken using this magical piece of kit.
Note 2, added October 2016. The sale of the equipment was completed a couple of months ago and I now have, along with the wonderful Gx3 – that never ceases to impress – a Canon 100D. This very lightweight piece of kit was bought so that I could retain the ability to shoot very wide angle using the 10-22mm EFS lens. It's an excellent camera with a body that weighs in at just 400g. So I've now achieved my goal of maintaining quality to the level I want while keeping everything in one smaller camera bag. Magic.
I've also recently changed my phone to the iPhone 5SE which I reckon has an even better camera than the iPod Touch, so that is the phone camera of choice for the time being.
Photos
The main emphasis of my work is definitely on nature and wildlife, but I also enjoy pointing the camera at just about anything. My wife, Gail, and I are fortunate to have children who are scattered with their families around the globe, giving us a great excuse to travel quite widely. We now divide our time between the UK (Lincolnshire), Italy (Tuscany), and Thailand (Phuket) with occasional excursions to Hong Kong, Kenya and New York, all of which, in their very different ways, provide endless photographic opportunities.
I very much enjoy surfing around other photographers' sites and being able to enjoy their work wherever I happen to be. I hope this site will also bring a few people some pleasure. Thanks for visiting and please come back soon; there'll be new photos added regularly.
David Clarke