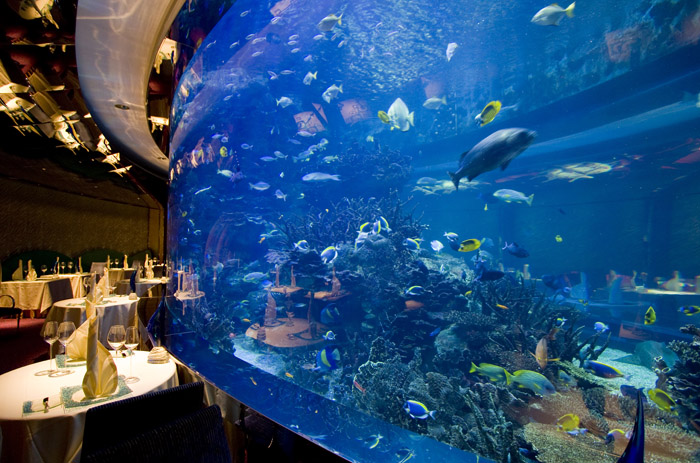 I'm not sure why, but this shot taken in the Al Mahara restaurant in the Burj Al Arab hotel in Dubai, is the most-viewed all all the shots I've posted on Red Bubble – 7313 views to date!
The image shows the centrepiece of the restaurant – a huge aquarium to mesmerise diners. The aquarium is lovingly run by a dedicated team who treat each of the 2500 fish in it and two adjacent aquariums as a friend. At the lower right of the shot, you can see a small shark on the gravel bed. She had just laid a couple of eggs on the coral that were a product of parthenogenesis, a form of asexual reproduction in which females produce eggs that develop without fertilization. This process is very rare among sharks and it is extremely rare for the young sharks, which are invariably female, to survive. Last year the aquarium had one that lived to three months but then died. As soon as he was aware of these new egg cases,the marine biologist in charge of the aquarium called one of his and the cases were retrieved, checked for viability and then kept separately to monitor their development.
The Burj Al Arab hotel is a seven star – yes seven – establishment that dominates the skyline along the coast of Dubai between the 'Palm' islands development and the even more exotic 'World' development – the latter still just a series of undeveloped islands of sand at present.
The hotel (burj is 'tower' in Arabic) is a magnificently impressive building from the outside. It soars up over 300 metres and is designed to resemble a sail. Inside it is no less impressive and leaves you standing there with your mouth open. If you stay there, you will develop a huge hole where your wallet used to be. All rooms are suites and the most modest of them costs around US$1000 per night. Interestingly, there are people who live there permanently.
There are more shots of the Burj in the Showcase, under 'buildings'
Canon 40D with Canon 10-22mm EFS lens at 10mm at 28mm; ISO800 f3.5 1/15.