All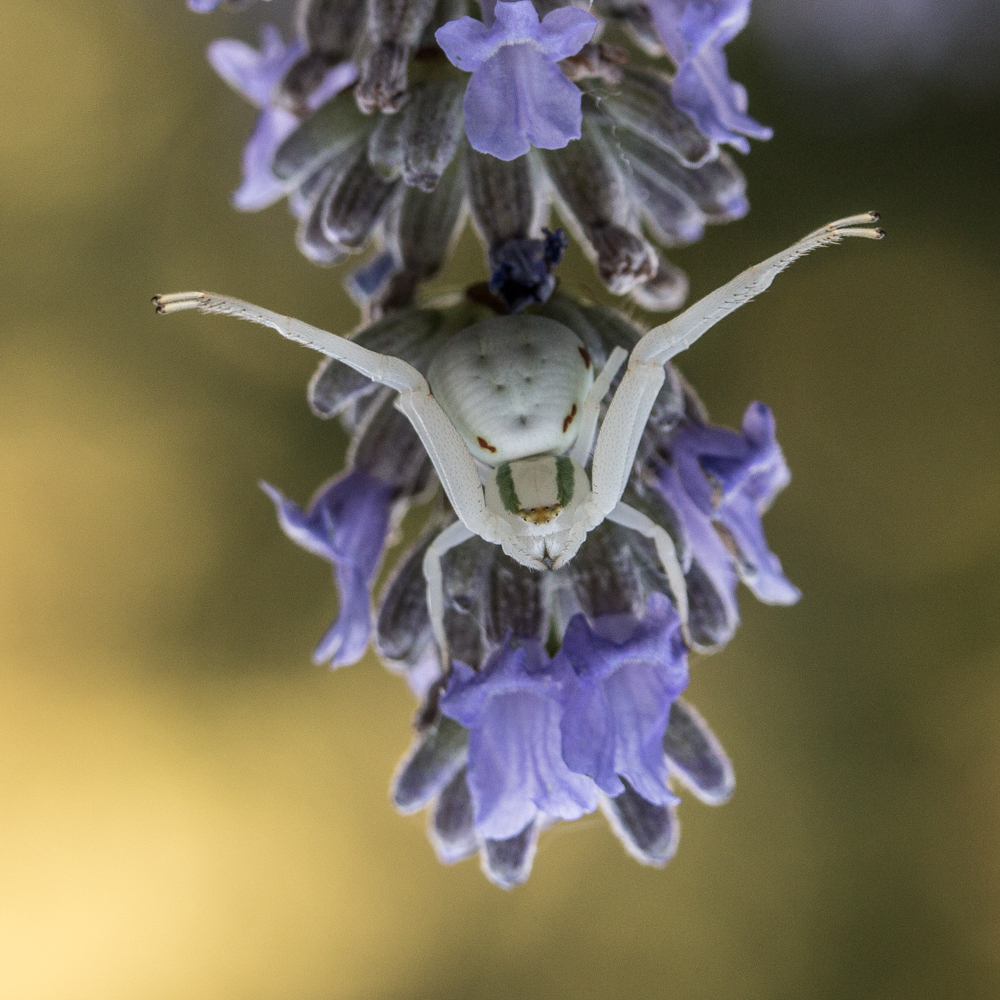 A crab spider thinks about grabbing my telephoto lens while lurking on a lavender stalk.
Canon EOS 100D with Canon EF 70-200 F/4 L IS lens and Canon 25mm tube ISO200 1/80 at f/8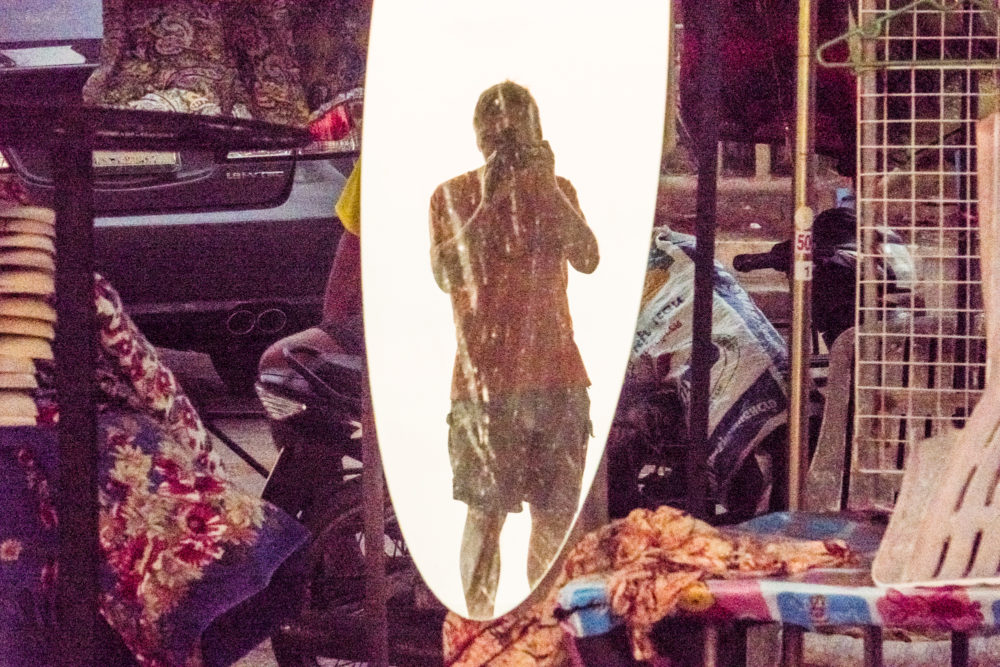 It was getting dark on the beach in Kamala when I noticed my reflection in a vendor's plastic mirror that was flapping around in a in the breeze. I have brought up all the levels in LR to show the  background in the car park where the stalls were being packed away for the day. The sun had set into the sea behind me.
Canon G3X ISO 800 1/1000 at f/9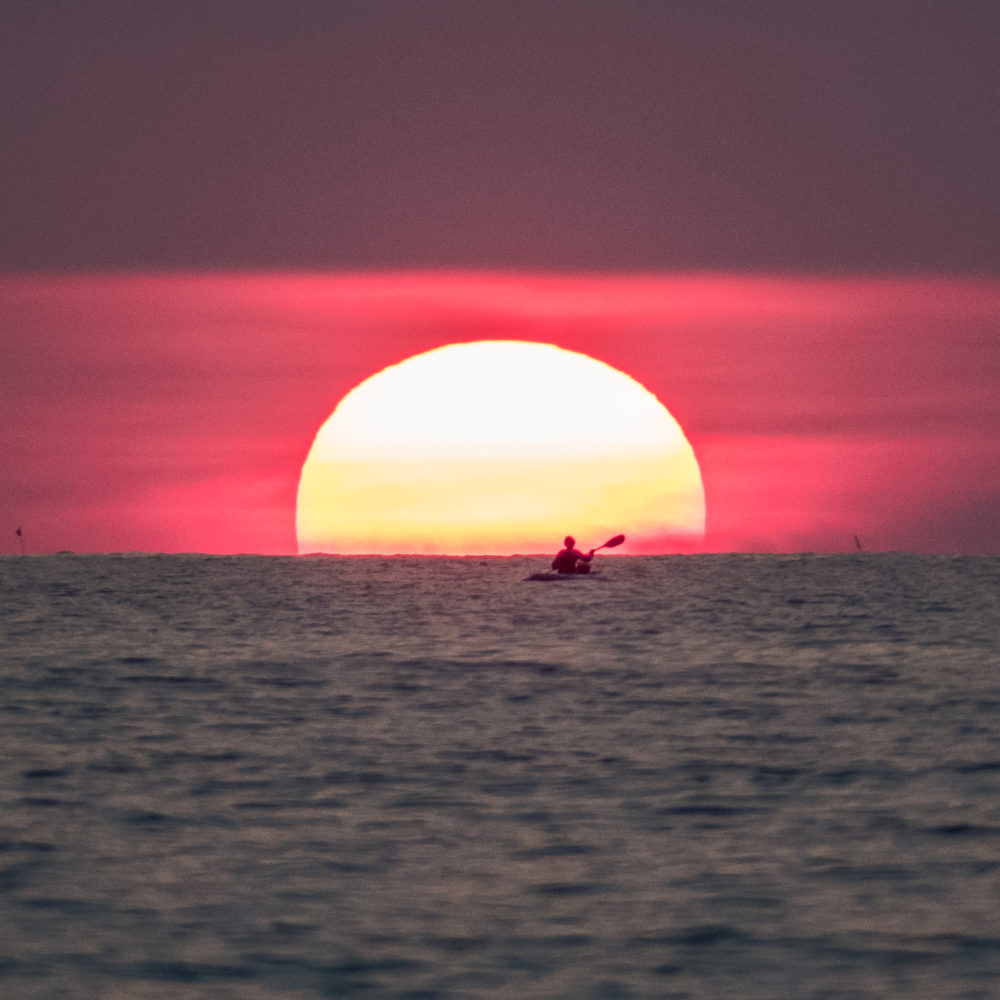 Another day, another sunset. This one was being chased by an optimistic kayaker. Kamala Beach, Phuket.
Canon G3X at 220mm (600mm equiv). Tweaked and cropped in LR ISO800 1/500 at f/5.6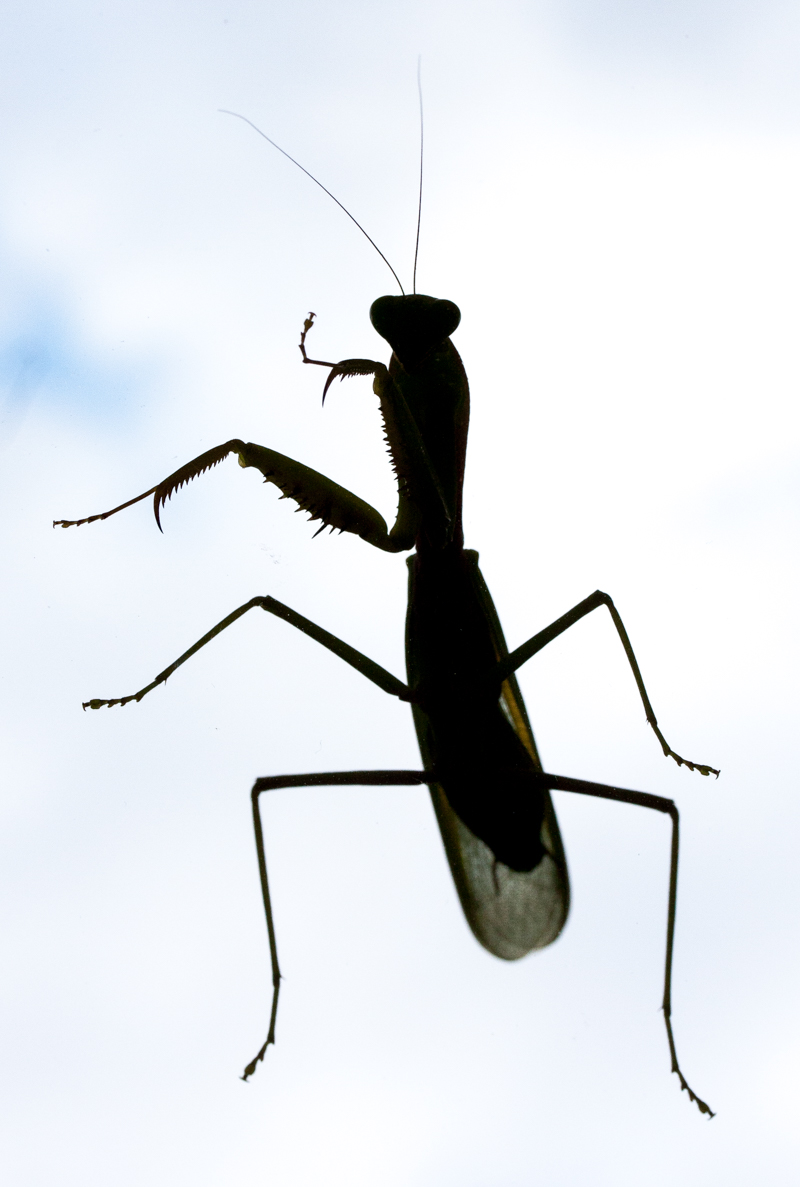 These fellows seem to follow me around. They are always in the garden or on the terrace at Gupole and yesterday, this guy was on the balcony sliding doors of our apartment in Phuket. He clearly knew that he made a good silhouette as he checked out the apartment, and he obligingly waved his front legs for me.
Canon 40D with a Canon 60mm EFS 2.8 macro lens at ISO 400, 1/1600 at f8
Cropped very slightly in Lightroom.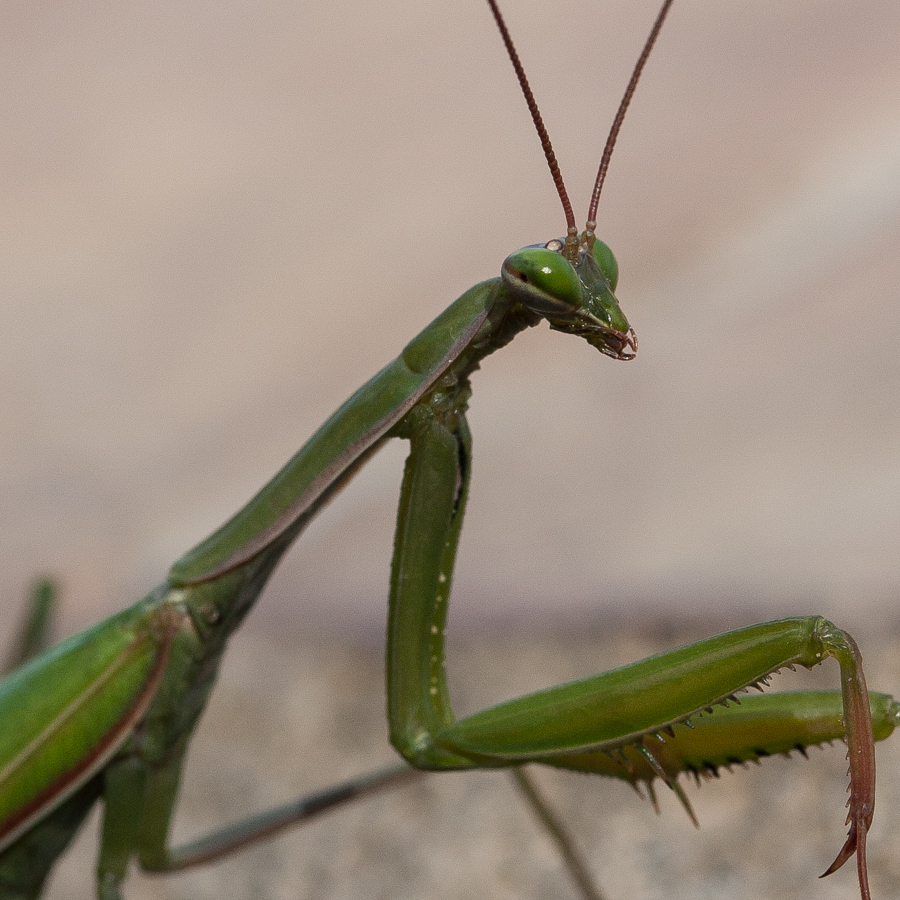 A few minutes before I took this shot, this male praying mantis had been floating face down, legs sprawled, in the swimming pool. Whatever stroke he was trying, it wasn't proving successful, so it was fortunate for him that I wandered past and fished him out. He stood in the sun for some considerable time drying out – you can see a droplet of water on his head behind the antennae – and he was only too happy to repay my service by posing for a few pictures. Just in case he thought it was all too much fun, I then moved him into greenery far from the pool.
Location: Tuscany, Italy
Canon 40D with Canon EF-S 60mm macro lens. ISO 160 f6.3 1/320. Tweaked in LR.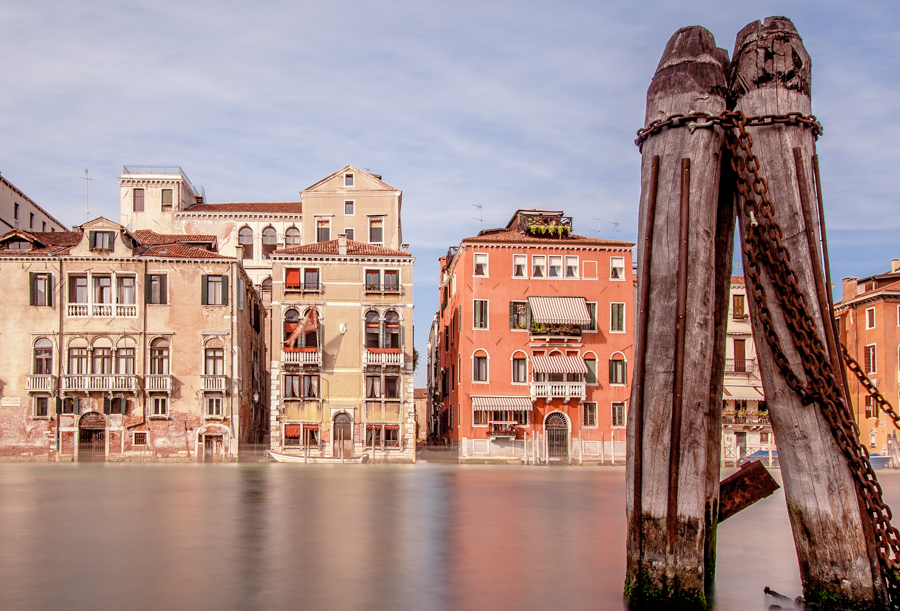 A busy afternoon on the Grand Canal in Venice is rendered eerily quiet thanks to a neutral density filter and a long exposure. Taken from the square by the Guggenheim museum, this location just down from the famous Accademia bridge (think Canaletto) is always buzzing with boats. The faint blur of one that passed during the exposure can be seen on the much-flattened water.
Canon 40D with Canon 10-22mm EFS lens at 15mm and a ND 3.0 1000x filter, ISO 100, f10 20 seconds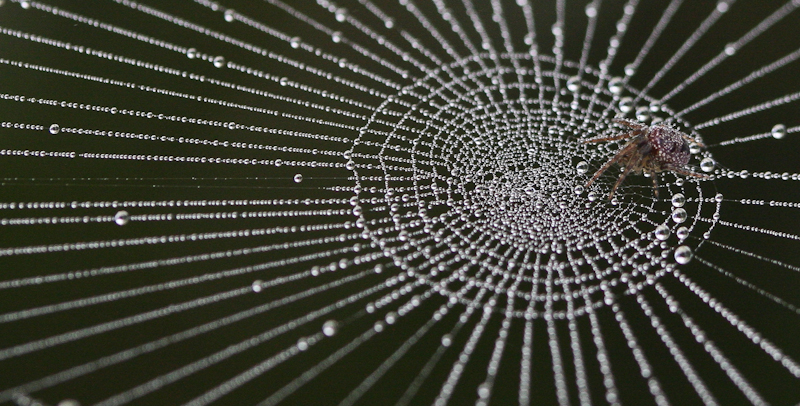 This dew-soaked little red spider is waiting motionless in its web for something tasty to arrive.
Canon 40D with Canon EFS f2.8 60mm macro lens, ISO500, 1/200 at f4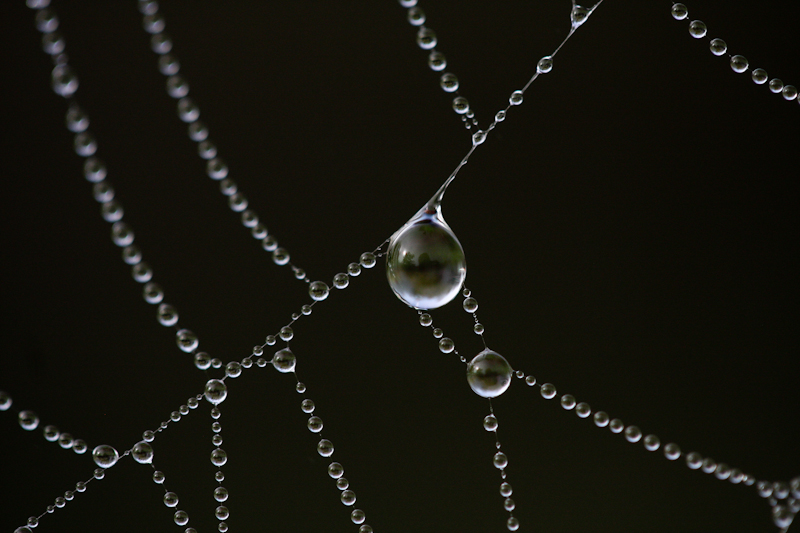 The misty Autumn mornings highlight the webs of the literally millions of spiders living in the woods around our house, each one busily constructing its own little world where it patiently waits for lunch to arrive. The trees and bushes are full of them, with the more enterprising, or maybe foolhardy, spiders slinging their webs across pathways or from one tree to the next. As the sun slowly burns off the mist, the webs light up a glistening display of water droplets on the threads. If there are millions of webs, imagine how many water droplets there must be…
Canon 40D with Canon EFS 60mm f2.8 macro on manual ISO500 1/1250 at f2.8
Full frame shot.
Location: Val Cerfone, Tuscany, Italy
The autumn feel has arrived here in Tuscany – cooler evenings, the smell of woodsmoke permeating the valley. and when the sun shine,  magical colours. This shot is of our small rhus tree in the garden that always puts on a spectacular  display of colour before settling down for the winter.
Canon 40D with Canon EFS 60mm macros lens ISo200 1/100 at f14