Burj Al Arab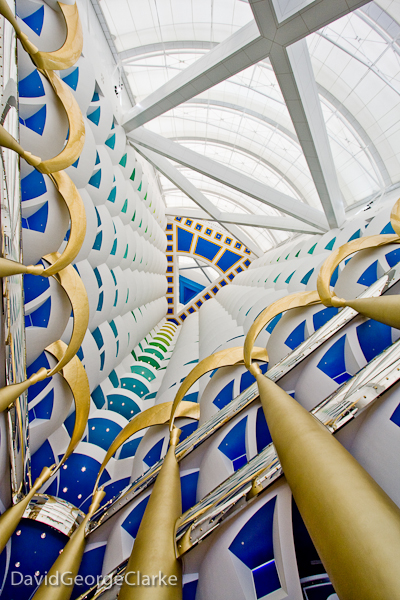 Location: Dubai
The Burj Al Arab hotel is a seven star – yes seven – establishment that dominates the skyline along the coast of Dubai between the 'Palm' islands development and the even more exotic 'World' development – the latter still just a series of undeveloped islands of sand at present.
The hotel (burj is 'tower' in Arabic) is a magnificently impressive building from the outside. It soars up over 300 metres and is designed to resemble a sail. Inside it is no less impressive and leaves you standing there with your mouth open. If you stay there, you will develop a huge hole where your wallet used to be. All rooms are suites and the most modest of them costs around US$1000 per night. Interestingly, there are people who live there permanently.
My son, who worked in Dubai when these shots were taken, knows one of the senior staff at the hotel who kindly arranged a tour for us. Without exaggeration, it was truly amazing! The gold you can see on the various structures is just that – gold!
Canon 40D with Canon 10-22mm EFS lens at 10mm; ISO200 f6.3 1/100.