Speke's Weaver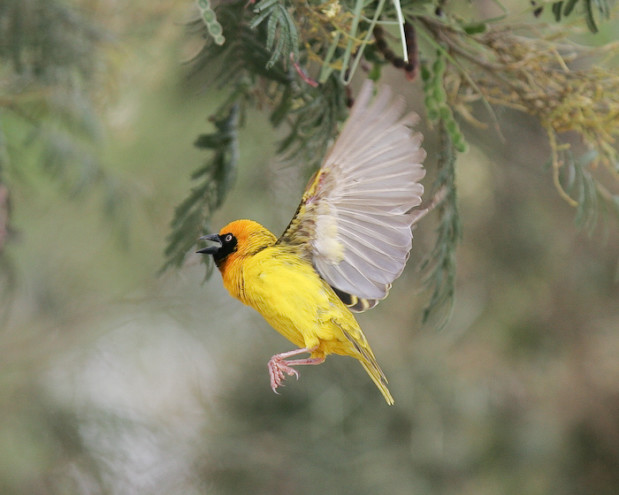 Location: Timau, Kenya
These photos are of a bunch of enthusiastic Speke's weavers that were nesting in a tree above our safari tent in Ben and Karina's garden in Timau, Kenya. Timau is at an elevation of around 7500 feet in the foothills of Mount Kenya, a few miles north of the equator.
The tree was full of nests, all of which were works in progress. The male weavers would spend their days flying back and forth fetching blades of grass to weave into the construction. They commenced their morning song around 5 a.m. prior to their day's work. When not charging back and forth to collect materials for their nests, they would hang upside down whistling madly to attract the attention of any passing females. The girls in turn would inspect the nests and often fly off with a disdainful whistle, leaving the males all of a fluster and literally chasing each other round in circles.
My aim in these shots was to capture the birds in flight as the arrived at or left their nests. However they move fast and I collected a lot of empty frames!
Mr Wikipedia has this to say on these pretty little birds: 'Speke's Weaver (Ploceus spekei) is a familiar East African songbird. The eyes are pale and the bill is on the large side for a weaver. Unlike many weavers, it has the same plumage all year. The adult male is yellow with black throat (edged rusty), face, and bill, and variable black mottling on the back. The adult female's upperparts are dull olive-gray with dusky brown streaks; the underparts are pale yellow, whiter on the belly and grayer on the flanks. The juvenile is similar but duller.
The song is variable; one version is transcribed as "pew…pew…tew, chinkichi-chewchew-skerinkitsitew. Calls include harsh chatter at the nest and "a sharp tseep!"
This species nests in colonies or occasionally singly. The nest, often woven in an acacia, is spherical with a short entrance tube opening sideways or downward. Many grass stems project sloppily, sometimes obscuring the shape. It nests in both the short rainy season and the middle of the long rainy season. Typical clutches comprise four eggs, which are unmarked deep blue, somewhat pointed at both ends, 24 to 26 mm long and 15 to 17 mm wide.
Speke's Weaver is found in northern and eastern Somalia, Ethiopia, Kenya (mostly the central highlands), and northeastern Tanzania. It inhabits savanna, bush, agricultural land, and towns. In parts of its range it is common, notably the densely populated area of Nairobi and environs, where it visits bird feeders.
This bird was named in honor of John Speke.'
Canon EOS 1DMkII with Canon 300mm L IS lens and Canon 1.4 extender; ISO400 f4 1/1600 – 1/3000