Tin Hau Temple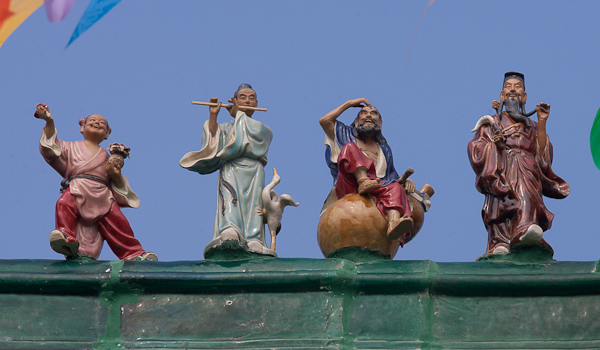 Location: Shek O, Hong Kong Island
The Tin Hau temple in Shek O, on the south-eastern corner of Hong Kong Island, was renovated in 2011, with a dedication ceremony on 31 December. It is one of over 70 Tin Hau temples in Hong Kong, not very old, but certainly beautiful. Tin Hau is the Goddess of the Sea and a particularly popular deity for all on the coast of China. There is an annual festival in her honour, held on the day 23 of the third moon in the Chinese calendar – mid April to mid May.
The HK Tourist Board site has the following additional information:
All those who owe their livelihood to the sea praise Tin Hau, the Goddess of the Sea.
Tin Hau's birthday is celebrated to bring safety, security, fine weather and full nets during the coming year. There are celebrations at Tin Hau temples all over Hong Kong. Seafarers adorn boats with colourful ribbons praising the goddess for past protection and praying for future luck. Boats are loaded with symbols of devotion and offerings to the goddess.
The festival in her honour culminates in a procession and is characterised by floral paper offerings known as fa pau. Every year Joss House Bay, in Sai Kung, hosts a vivid celebration, where traditional rites are observed at the temple. In Yuen Long, in the New Territories, a parade takes place with lion dances.