March 2013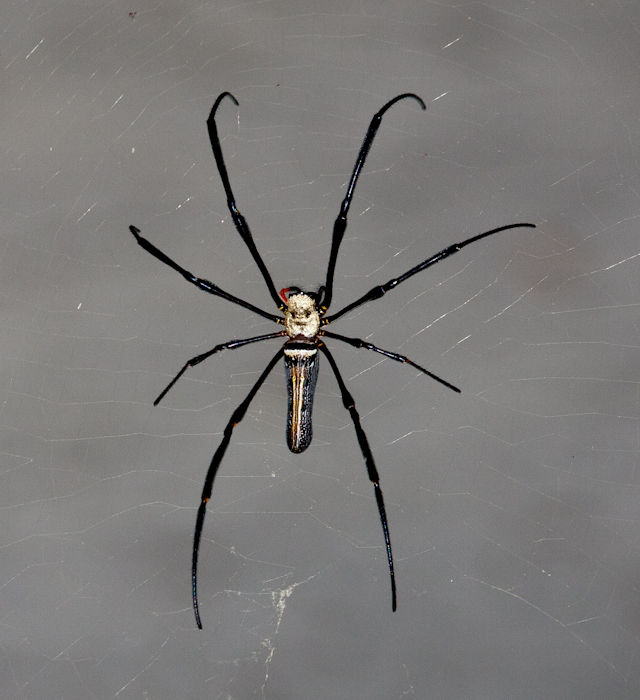 This rather large spider took up residence in a very durable web of his own making next to the steps leading down to the car park from our apartment in Phuket. For a while he was in another web directly over the steps, but found that a little precarious. Either that or he ate one of the residents and decided to move to one side while he digested the unfortunate victim.
He's gone now, but I find I miss his alluring mask which kind of says, "Come closer, enjoy my party!"
Canon 40D with Canon 70-200 f4.5 L lens at 155mm with Canon 12mm extension tube. ISO500 1/200 at f9 with built-in flash.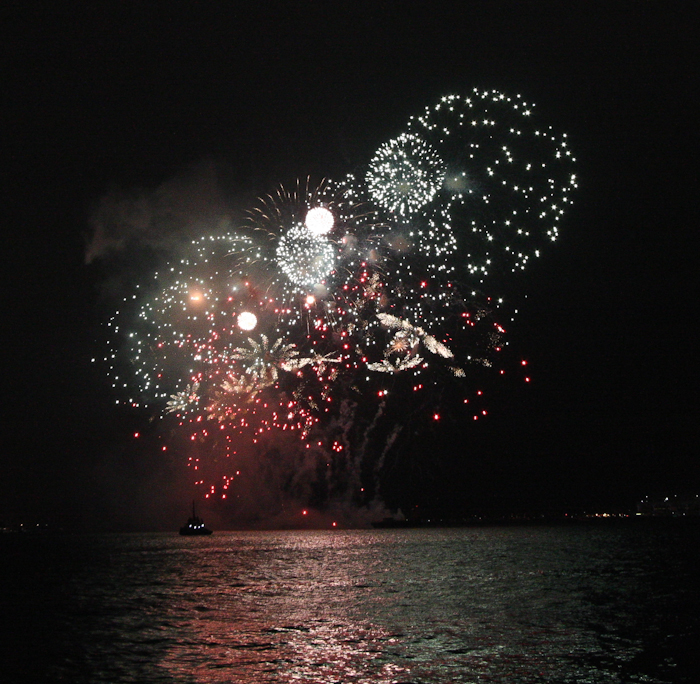 What's the collective noun for a load of fireworks in a display?  A confusion? An explosion? A cacophony? A spectacle?
Here's another shot of the a whatever-it-is of the fireworks in Hong Kong harbour at Chinese New Year
Canon EOS 40D with Canon EFS 10-22mm lens at 22mm on manual. ISO1600 1/30 at f10

I'm just blown away with the panoramas you can take with the iPhone 5. Not only is the process fun but the quality of the image is excellent.
This shot was taken in the IFC 1 mall in Hong Kong. The couple on the left are the same pair as the couple on the right. Completely oblivious to me and what I was doing, they just happened to walk behind me as I was panning the phone/camera (phonamera? -there's a new word in the offing here!) and arrived my right as I completed the shot. The glass/chrome railing I'm standing by is in fact a straight line; the panning causes the curve. There'll be more of these!!
To see this image larger, click on 'Panoramas' in the menu bar
The data recorded on Lightroom from the iPhone is as follows: ISO200 4.13mm 1/120 at f2.4. It's all automatic, of course.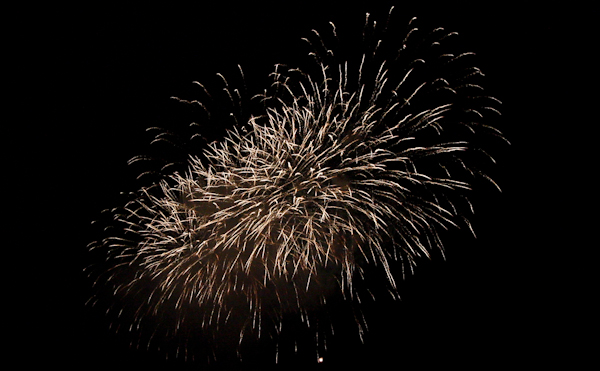 There's a collection of these in the gallery, but a few are special favourites that I want to post here as well. Here's the first, a somewhat abstract shot that captures a fleeting moment in the ever-changing spectacle of twenty minutes of exciting sound, light and flashes from three barges in Hong Kong harbour. There's nothing like it!
Canon 40D with Canon 10-22mm EFS lens at 22mm ISO1600 1/30 at f10 (manual setting)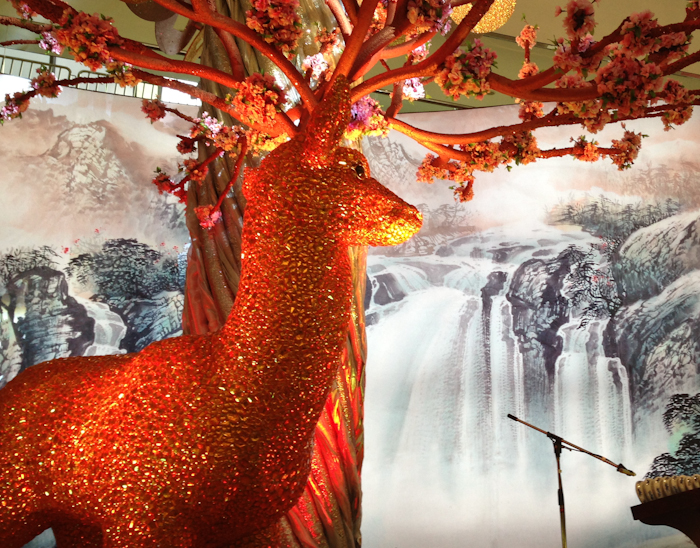 Chinese New Year in Hong Kong is a good enough reason to pull out all the stops for decorations and entertainment. Many of the better shopping plazas and malls put on huge displays with traditional dances thrown in. In City Plaza at Tai Koo Shing on Hong Kong Island, there were many quite garish reindeer that were probably left over from Christmas but served as a fine backdrop to dancers celebrating the Year of the Snake. This golden fellow with his outrageous antlers seems to be anticipating something rather special as he eyes the microphone. Maybe in the middle of the night when the place is empty, he and his mates come to life, singing and dancing for each other in true Disney fantasy style.
Taken on my iPhone 5 and cropped and tweaked in Lightroom